Articles On Stamp Collecting: Topical/Thematic Collecting
Basic Information On The Philippines
Is there a need to know the country which issued the topical stamps? At first, one is strongly tempted to think that there seems to be no need for it. In truth, one's attempt to know the country which issued the topical stamps can lead to a discovery of a lot of things that makes topical or thematic stamp collecting more interesting and satisfying. Here, then, are a number of facts on the Philippines.
Introduction
OFFICIAL NAME: REPUBLIKA NG PILIPINAS (Republic of the Philippines)

LOCATION: It is an archipelagic nation of more than 7,100 islands in Southeast Asia.

GOVERNMENT: Republic; Democratic form of government

EDUCATION: Three levels of education - elementary, secondary and tertiary levels

CURRENCY: Philippine peso (Legend: P - peso / Php - Philippine peso / s - sentimo / c - centavo / 100s or 100c = P1.00 or Php 1.00)
Visit ASEAN Lands - 1972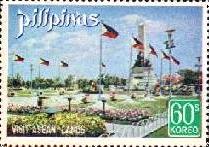 Rizal Park, Manila
Land And Climate
CAPITAL: Manila

MAJOR CITIES: Baguio, Cebu, Davao, Makati, Manila, Quezon City, Pasay City, Tagaytay City, Zamboanga

MAJOR ISLANDS: Luzon - largest island; Mindanao - second largest island
Tourist Publicity Series II - 1971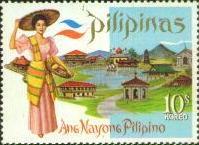 Pasay City, Metro Manila
MOUNTAIN SYSTEMS: Cordillera mountain range, Zambales range, Tagaytay range and Sierra Madre mountain range in Luzon; Mindoro mountain range in Mindoro; Surigao range and central-western range (including Mt. Apo) in Mindanao

COASTLINE: Irregular coastline of 10,850 square miles

RIVER SYSTEMS: Rio Grande de Cagayan, Abra river system and Agno Grande in Luzon; Rio Grande de Mindanao (largest river) and Agusan river in Mindanao

VOLCANOES: Taal Volcano, Mount Mayon, Mount Pinatubo, Mount Banahaw, Mount Hibok-Hibok, Mount Apo

AGRICULTURAL CROPS: Rice, coconut, copra, banana, lanzones, pineapples, mangoes, abaca, sugar, resins, gum

CLIMATE: Tropical

SEASONS: Dry season (December - May) and wet season (June - November)

NATURAL CALAMATIES: Typhoons, earthquakes, volcanic eruptions
Languages And Dialects
NATIONAL LANGUAGE: Filipino

OFFICIAL LANGUAGES: Filipino and English

NUMBER OF LANGUAGES AND DIALECTS: (Approximation) More than one hundred languages and dialects are spoken in various parts of the Philippines.
National Anthem Centennial - 1999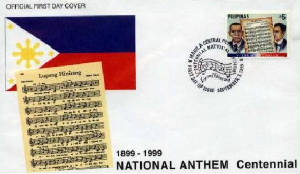 "Lupang Hinirang"
National Anthem And Symbols
NATIONAL ANTHEM: "Lupang Hinirang"

NATIONAL HEROES AND HEROINES: Melchora Aquino, Andres Bonifacio, Marcelo H. del Pilar, Emilio Jacinto, Graciano Lopez Jaena, Lapu-Lapu, Jose Rizal and still others

NATIONAL SYMBOLS: Barong Tagalog - national dress for men; Saya - national dress for women; Narra - national tree; Sampaguita - national flower; Mango - national fruit; Bangus (Milkfish) - national fish; Philippine eagle - national bird
National Stamp Collecting Month - 2002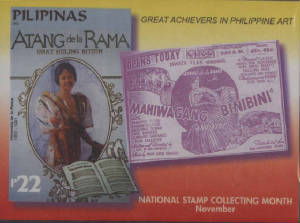 Saya - National Dress For Women
National Public Holidays
January 1 : Bagong Taon (New Year's Day)

May 1 : Araw ng Manggagawa (Labor Day)

June 12 : Araw ng Kalayaan (Independence Day)

Last Sunday, August : Araw ng mga Bayani (National Heroes Day)

November 1 : Araw ng mga Patay (All Saints Day)

November 2 : Araw ng mga Kaluluwa (All Souls Day)

November 30: Araw ni Bonifacio (Bonifacio Day)

December 25 : Pasko (Christmas)

December 30 : Araw ni Rizal (Rizal Day)
Updated: October 12, 2010
Click Or Press The Stamp Or Underlined Titles To View

Alex Angara Moises. Advance Thematic Collector. Philippines